So we have been asked to stay at home – at least those of us deemed nonessential. Many of us thought the transition to working from home would be simple. After all, in this day and age there is not much that we don't do on our computers. Easy enough, we boot up our desktops or crack open our laptops and BAM – home office.
Not so fast. The kids are also home? Ok, so everyone in the house needs a device. The battle for bandwidth begins. Fortunately, the last time I tried to lower my cable bill, my provider was able to convince me to increase my bandwidth by some obscene amount to justify being charged exorbitant fees. Phew…we are all video conferencing, attending classes, streaming videos & music, shopping and emailing simultaneously with barely any lag. Crisis averted. Mostly…
There's stuff everywhere. Every flat surface is fair game. We have books, school supplies, files, and office supplies. It's time to get serious about a home office. After all, we're not sure what this COVID-19 pandemic has in store for us. We don't know how long we will be working remotely. And with all of the beautiful home office solutions available to us these days, why put up with makeshift space? Reclaim your dining table for dining. Your server doesn't need to serve as a catchall.
Whatever your style, there's a desk or writing table for you. Storage can get a little trickier if you have space issues, but if you have the room, why not go for a file credenza? They are no longer the atrocities of yesteryear. Vanguard Furniture introduced some fabulous office pieces as part of their Make It Yours Program.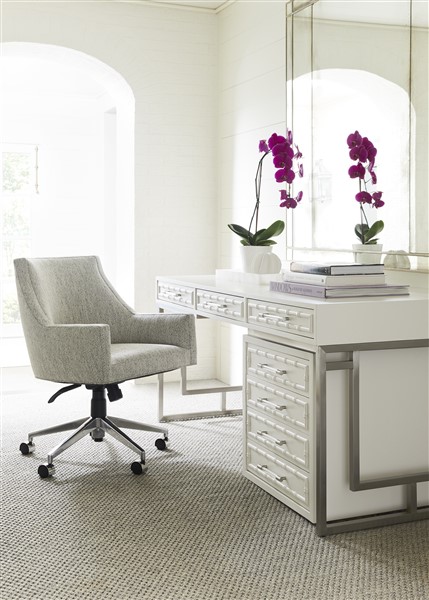 Maybe you'd prefer to use a piece that has already been designed – tried and true. So many options are available in traditional or classical styles. Sure, start your search on the web, but be sure to check in with a sales associate who might be able to provide some other options.
Continue to work remotely, but do it in style. Stay safe.